July 19, 2004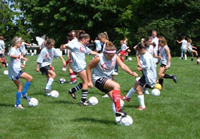 Rocky Hill, CT - The Collegiate Soccer System is proud of the success it obtained with its 2004 Overnight Summer Camp at the Marvelwood School in Kent, CT. Our Soccer School's Camps are events the company look forward to because of the opportunity to work with all our campers. "Our staff always looks forward to our overnight camps because of the students that attend. All campers are what make our camps a success with their work ethic but more importantly their personalities.", stated Chris LeGates, CSS Manager Partner/Director.

Our overnight girls week at The Marvelwood School reached an attendance of 120 girls from the ages of 8 - 18 years old. Collegiate Soccer System strives towards giving our campers the complete camp experience.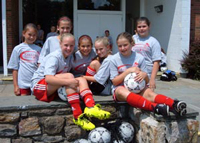 While teaching all the campers the game of soccer, we realize the experience needs to be a fun, positive and motivating one on only on the field but also off the field. Tony Horta, CSS President/Director stated, "We want all our campers to leave with an experience that will last a life time. Our main focus is to the teach all our students the game so they may grow into a better soccer player but also a better person. Our camps are designed for the student to grow on and off the field."

Colleigate Soccer System would like to say Thanks to the following people that helped make the this years camp a success:

1. All the Campers - Great Job!
2. Campers' Parents - Trusting us with your children
3. CSS Coaching Staff - The best in the industry
4. Adidas - Sponsor
5. World Club Sports - Sponsor
6. The Marvelwood School and its Staff


Our 2004 Summer Camp was a success and a tremendous amount of fun but DON'T MISS 2005 SUMMER CAMP...